Steiner Sports is one of the leading sports memorabilia authorities in the market today. They entered the sports business world in 1987. Over the last 10 years, they have established themselves as a leading provider of sports marketing services and authentic memorabilia.
Steiner Sports is one of the leading producers of authentic hand-signed collectibles and one of the best sources for all your sports gift needs. Autographed memorabilia by athletes like Hank Aaron, Joe Namath, Magic Johnson and Muhammad Ali is the hottest new solution for personal and client gifts, as well as sales incentives, employee recognition and charity fundraising auctions.
Steiner Sports has exclusive autograph deals with Derek Jeter, Tony Hawk, David Ortiz, Johnny Damon, Joe Torre, Eli Manning, Tiki Barber, Paul O'Neill and Curt Schilling among others.
Steiner Sports has a unique process of authenticating their products. We will describe that process here for your benefit when researching the best sports memorabilia for you.
Each and every hand-signed collectible that carries a tamper-proof hologram is witnessed by a Steiner Sports representative. Once the collectibles have been autographed, they are cataloged and inventoried.

A notarized affidavit is prepared and signed by the athlete and a Steiner Sports representative. The notarized affidavit records the date and location of the signing and also details the items that were signed by the specified athlete. This document is then secured within the Steiner Sports main offices.
Each hand-signed collectible is examined for quality and signature condition. If the collectible meets the Steiner Sports standard of excellence a tamper-proof Steiner Sports hologram is affixed to the product.
Once the hand-signed collectible has passed the steps listed above, a Steiner Sports Certificate of Authenticity is created for the collectible. The collectible is then sealed and stored within our main office and is not handled until it is delivered to a sports collectible enthusiast.
Below is a sampling of the Steiner Sports Certificate of Authenticity with a view of the front and back.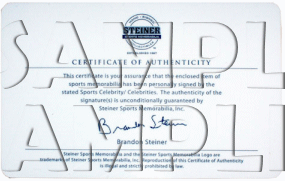 If you have questions about the authentication process, please contact us or visit Steiner Sports for further information. Our specialty is Authentic Autographed Sports Memorabilia. Visit our site at AAA Sports Memorabilia to view and purchase these great collectibles.