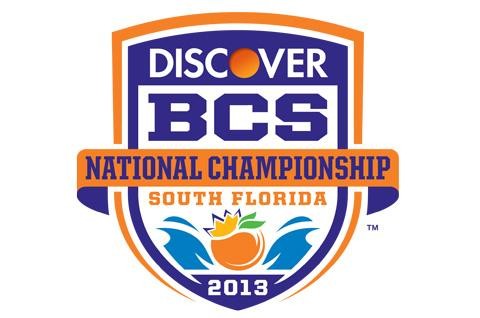 With the
NCAA
college football season heading down its final stretch, the time has come for preparations for the BCS National Championship match. 2013 is the final year in which there will be a single game that determines the winner, as in 2014 a 4-game playoff will be adopted by the NCAA. But as it stands, this year could end up being quite controversial, as 5 major national contenders are undefeated and could potentially finish the year as so, leaving one final major controversy in the old BCS system that has plagued the game for so many years.
Right now the
Alabama Crimson Tide
,
Florida State Seminoles
,
Ohio State Buckeyes
,
Baylor Bears
, and the
Oregon Ducks
have yet to lose a game. They each have a legitimate case for being the nation's best team, and yet each is still facing major challenges up ahead. By the end of the season, which of these teams will still be hanging strong and ready to win a BCS title? Or will they all lose, opening the floodgates for numerous other team's faint hopes? Or will we be facing a final controversy with 3 or 4 teams equally qualified for that title match?
Fortunately, there are countless big games ahead for all these teams, meaning someone will surely slip up. Baylor has had the softest schedule so far this year and haven't played a top 25 opponent all season, but are facing a make-or-break section of their schedule ahead. They face 10
th
ranked
Oklahoma Sooners
on Thursday, and then have games against the
Texas Tech Raiders
and
Oklahoma State Cowboys
(both ranked). Texas also looms large at the end of their season. I foresee at least one loss for the team that currently has the nation's best offense.
Another team with a tough road ahead is Alabama, who faces
LSU
and
Auburn
in addition to another SEC force should they make the SEC Championship. If anyone is prepared for such a challenge Alabama surely is, as Nick Saban is vying for his 3
rd
straight national title with quarterback AJ McCarron.
Oregon has been a usual national contender in recent years. With a formidable rushing attack and a strong defense, they have every chance to be in the title game. Up ahead though will be a major task against Stanford that could decide their fate this weekend, though the rest of their schedule is favorable.
Ohio State has probably the easiest run-in, with their massive rivalry against Michigan looking to be the toughest test. Ohio State went undefeated last year but was ineligible for the postseason. Head coach Urban Meyer looks to have righted the ship and could well see this team through to the big match. However, the soft Big Ten has presented favorable matchups for the Buckeyes and it would be curious to see how they would fare against an Alabama or Oregon.
Lastly, there is Florida State, with freshman quarterback Jameis Winston. The team looks a major force and to me to be the best team in the nation. They have already passed major tests against Clemson and Miami, though they may have to play Miami once more in the ACC title game and still must play rivals Florida. Nevertheless, their dominance in those games suggests they can handle another test.
So how will it all play out? The beauty of college football is that we really don't know. Games can always go either way, and chances are some of these losses may even occur against teams not deemed that big of a threat. However, my money is on a Florida State – Alabama title game, with Alabama's experience pulling them through. However, I also have a hunch that the old BCS format will go out with a bang, and that either Ohio State or Oregon could get frustrated and left out. Either way, it will surely be an interesting final month of college football to determine who plays in that glorious BCS Championship game!
It doesn't matter which NCAA team you are rooting for,
AAA Sports Memorabilia
has a collectible for you. Whether you are looking for an autographed piece of memorabilia, or an officially licensed collectible, we have it. Can't find what you are looking for on our site? No problem. Just let us know what you are looking for and we will let you know if we have it in stock. We have been serving sports fans build their man caves since 2006 and will continue to do so for many years to come. Visit us often as new items are added daily.